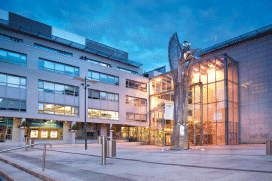 National College of Ireland,
Changing Lives Through Education.
January is of course a time for new year resolutions - many people might be considering taking one of the many courses available in many third level Colleges. The Springboard initiative funds several courses, including the
Higher Diploma in Data Analytics
, where most of my teaching is set. It is not too dramatic to say that going back to College can be a life-changing experience - I have seen this several times with my own eyes in the faces of students that sit in my classes. Prospective students can be fearful and uncertain about what steps to take in making a big decision to go to College.
So - what informs a decision to go back to education? There are a lot of questions that you can ask, such as:
How hard is it?
How easy is it?
Will I succeed?
It's been a long time since I went to College - will I fit in?
It's a long time since I studied - will I be able to pick this up again?
It's a long time since I sat an exam - will I be able to get through it?
I have a family - can I manage study and a family?
I have a job - will I be able to work and study together?
Am I too old at 40 (insert your age here) to go back to College?
Will I have fun?
Will I get a job at the end of the course?

....and many more
It is of course a decision for each individual as to whether to go back to College or not. But you should be assured that you are not alone. Courses like our Higher Diplomas are hard work and take up a lot of time - there's no denying that. Study will be disruptive to your life - our job is to help you get you through this. But hopefully the rewards will be worth it and that you can take pride at receiving your diploma at The Graduation Ceremony.